Messages
Message From Chairman'S Desk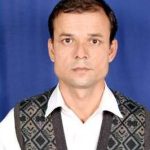 Sukuna Multiple Campus (SMC) is a mission-driven, not-profit making community campus –set up in public initiation to provide access to higher education in the local settlement. Today, it has grown as one of the nation's leading educational institutions which makes us feel proud. It is entirely dedicated to promoting excellence and equity in education. Each year, the campus helps hundreds of graduates prepare for a successful transition through multiple programs and services.
 Opportunities for academic success are a lot in the campus, all of which are designed to provide real-world experiences and increase national and international exposure and understanding. We hope you feel different when you attempt to get its real exposure.
 The management committee of SMC owes much of its success to its general body members, Advisory Council, Teaching and non-teaching staff, local communities, students, and a number of contributors behind the scenes to make our campus better each and every day. I, personally, highly appreciate your choice for higher study. I wish you all the best.
–Keshav Adhikari (Chairman)                                                                              
---
Message From Campus Chief's Desk
Sukuna Multiple Campus is built upon a 32-year history of innovation and sustained excellence in providing higher education. Today, it remains a vibrant and active intellectual community of Koshi Province, Nepal with multiple streams and departments along with a huge pool of teaching faculty. I assure you that we have a shared culture of excellence and a common appreciation for interdisciplinary collaboration.
I know how important it is to find the right campus for graduation; a place where the faculty sees your promise and then goes the extra mile to develop that potential with much share and care. SMC is, thus, the place where students and faculty feel like a family, and where we care deeply about the success and excellence of every student. We always make plans to prepare a pool of professionals who are committed to providing deep content knowledge and demonstrating strong working knowledge. To our personal and professional strength, we are always determined to ignite the curiosity of your learning and shine in your areas of strength and interest.
If you are passionate about teaching and learning in an excellent setting, I invite you to examine our programs, the work of our faculty, and the accomplishments of our students and faculty; explore our website and then walk to the campus or use other communication tools to connect you to us.  Even better, I encourage you to visit our laboratory, and library in person, to meet our students and faculty. You will find innovation, ambition, and creativity here. Thank you!
– Arjun Raj Adhikari (Campus Chief)